Name: Mégan Gotham
Location: Columbus, OH
Web site: http://www.modelmayhem.com/1176553
Years working as model: 2003 - now

made up of beds, porno films, and pictures of penises on the walls. I just

1. Please give a quick overview of the type of modeling you have done. You can describe jobs you have done, what type of modeling you specialize in, photographers you've worked with, etc.
"I'm stereotypically an art/commercial style model, which is quite different from runway models in that you don't have to fit into a size category. If I were doing runways, I'd have to be at least 5'7" and a size 0-4 to get any work, but as a 5'10" size 8 that's just not a place that I would fit into. The bulk of my work doesn't focus on clothing as much as focuses on themes, like mock senior portraits, 60s go-go dancer, prom queen, and even zombie-on-the-loose! My line of modeling allows me to have fun, be expressive, try new things, and really makes the process more like creating art than doing work."

2. How did you get your start in modeling?
"I was getting into cosplaying pretty heavily, which is where you dress up and imitate a fictional Japanese media character. Luckily for me, my friend Kristin was starting to dabble in photography around the same time. So we collaborated and came up with some amazing shots! Once we parted ways for school I didn't model very often until I was turned onto Model Mayhem, but after I found that site, it was like the flood gates were opened! I've been modeling almost non-stop thanks to them and the local events and casting calls."

3. Please describe your favorite experience as a model so far and what made it so special?
Just one! Oh gosh, there are so many great moments you get when you work with an artistic crowd. I guess I would say that my favorite experience so far was one of my first times modeling. My photographer friend Kristin and I were doing a cosplay set for Kagome from InuYasha. We wanted to find a really pretty, majestic location to capture the feel of the forests of feudal Japan. We found a really great location at the top of this crazy, curvy road that was completely isolated.

We pulled over at this little scenic viewing spot that was awkwardly placed next to a sharp, jagged turn at the very tip of the mountain. It just looked perfect to shoot with because the viewing platform was made from this really old wood and had an amazing view of the empty valley. The shoot was going great, and then out of nowhere tons of cars just started speeding past us. We were trying to ignore them, but they weren't ignoring us! There were over five cars that almost drove off the road trying to watch us, and one set that almost drove into each other! No one wrecked or got hurt, but watching the drivers hilariously confused, twisted faces has never left my mind.

4. Please complete this sentence (and feel free to expand upon it). The most beautiful photographs are…
the ones that hold the viewers gaze! A regularly beautiful image is seen and usually forgotten, but an image full of details makes people look at it longer, which makes the image more memorable. There is no one thing to making a beautiful image memorable, it's the pose, the clothes, the mise-en-scene, the make-up, and that extra something that a model draws from to give their essence to the shot.

5. What's the funniest thing that has happened on set during a modeling shoot?
There was a group shoot that I had signed up for where we would shoot in a night club. The place sounded great, the website looked good, and I loved the whole idea. I walked in the door of the club, and that's when I realized that it was a swingers club. I admit I didn't really read up on what kind of a night club it was, but that was the last thing I had expected to see. I convinced myself that it was just like any other club, that they just hooked up and went home.
6. What shots do you think every model should have in their portfolio?
I think everyone needs to have the crazy composite where you just make every expression you can think of and put it all in one image. That just shows a great range for you right off the bat. I also think that everyone needs the seductive, come-hither picture. Sexuality sells, so the more appealing you are the more options you can have for commercial work. I would also say that the art shot is key. The weird pose with the crazy hair and make-up gives people who are casting an idea of what you can do outside of your facial expressions, which is a huge part in modeling.

7. Is there a mistake you've seen other beginning models make that you would want to warn other newbies about?
The attitudes! So many times I see a new model who knows she has a beautiful body or face, and she thinks that's all it takes to be a super model. Listen to your photographers, they know more than you might think, and they can see you whereas you can only guess what you look like. Give the photographers what they want and you will typically have some great photos to show for it. And even if the photos aren't very good you haven't lost out on anything by trying! Believe me though, a mean model, a diva, or a flake has a hard time getting work, no matter how hot they are! In most cities the photographers and models all know each other, so a bad attitude with one photographer will get around quickly."

8. What are your goals for your modeling? What's next for you?
Well, modeling isn't really a career for me at this stage. I've been through college, but since I don't need to work I've just been putting my energy into modeling more and more. Right now, I'm working on getting more tear sheets (ie getting published) to build a more solid portfolio, then who knows!

9. What do you think is the best way for new models to turn their interest in modeling into a career that pays the bills?
"Keep it as a hobby on the side for a long time and just schedule group shoots and time for print shoots as much as possible. Get with every photographer, even jump in as an extra for other shots. No shoot is a waste of time, and doing something as a favor might lead to future work. Don't be afraid of newbie photographers either, they can really surprise you and work for you harder than some experienced photographers.
"When you've really honed in on your abilities take your book into a talent agency and hear what they have to say. At first you'll probably only be told your flaws and mistakes, but take that as a learning experience and try your best to do what they say, even if you disagree. The agencies are one of the only ways to get a serious income from modeling, so making them happy is your first step to modeling for a living."

10. What other advice would you have for new models? (could be pertaining to portfolios, agents, photographers, etc.)
Don't be dead weight, always think ahead towards a new concept, theme, or idea to shoot. If you're at a group shoot and only have a one hour time slot to work with a photographer, you don't want to waste any time trying to figure out what you should do. Communicate with your photographers weeks before you shoot together so that you can coordinate your ideas and get the proper attire and accessories for the shoot. This is a business built more on reputation than appearance, so your job is to make your photographer happy and wow them.


11. Many young women are watching America's Next Top Model and similar modeling shows and dreaming of becoming a model themselves. Having worked as a model for a few years now, how would you compare what we see on the TV show to real life?
Well, these shows are designed to be drama-fests. Everyone is in hate with everyone else, they're always trash talking each other and fighting over the dumbest things. Sometimes this kind of thing does happen, and it's impossible to have everyone like you, but these shows are selling reality-drama to get more people to tune in. How often will you see people who've been modeling for two weeks posing for a Johnson & Johnson advertisement? It just doesn't happen! The models unprofessional behaviors and their mistakes is what we are inevitably tuning in for, and I'm sure when they're interviewing for contestants the producers purposely look for girls who will clash with each other to have those moments on film. It's all constructed and completely unrealistic.

Now, after saying all of that, I have to admit that America's Next Top Model and Make Me a Supermodel are guilty pleasures of mine! I absolutely hate all the catty comments and bad attitudes, but they genuinely come up with some amazing ideas. So, I would not suggest taking these shows as any kind of how-to in becoming a model. But if you can get ideas for poses, concepts, make-up, and so on out of it, then you're making good use of your TV time!

12. How do you market yourself as a model?
My modeling name is The Gotham Girl, which is a play on my name. Unfortunately, a lot of people misunderstand that to mean that I specialize in gothic modeling! I couldn't even describe to you what a gothic look would be, so that can get a little difficult to handle. But aside from that, I try to market myself as a blank slate; someone who is open to most styles. I have a background in acting, so I feel that I'm competent enough in my skills to take on whatever persona is required. My principle idea there is to open the networking door a little more, and get some experience and exposure as well as find what my best personal style is in the process.

13. Who do you market yourself to? (photographers, ad agencies, art directors, etc.)
Currently I'm just happy to work one-on-one with photographers. I still want to have all of my looks and poses perfected before trying to get a agent and high scale work.

14. Do you feel that being represented by an agency is important?
For steady, paying work it is the most important thing. It gives you the ability to take some of the pressure off of yourself and allows someone with solid connections within the industry to find you work. The average person will never know about the bigger casting calls because companies want professionals, not people off of the street and having an agent or agency is a huge sign of being a professional.

15. What advice would you give to photographers pertaining to working with models?
Speak up! We often can't see ourselves, and we don't want bad photos any more than you do, so tell us if we look puffy at a certain angle, or if we need to move, or if our sexy look is just stupid. We honestly don't know most of the time! We're the paint, the photographer is the artist!

16. Have you seen any impact on the modeling world caused by the recent economic downturn?
In my part of the world, there isn't a ton of commercial work available to begin with. But I would actually say that the modeling world has seen more work since the downturn. When things don't sell, companies don't lower prices, they put on bigger add campaigns, which means more money is going into the modeling industry in general. And, while trying to save money in the process, a lot of agencies and companies are looking for new faces that they can contract for a lot less money than the top models.

17. In your geographic area, what types of modeling do you think offer the greatest opportunities for new models?
Sometimes, big magazines and promotions will roll through here looking for people, but overall regular print work seems to be the best way to get your face out there. Shoots for club flyers, promotional gatherings, photographers comp cards, they all get you out in the public eye, and they're great to collect for your book to show agencies that you have tear sheets.

18. Is there anything else you'd like to add?
Modeling is a really tough business to get into, and it's not for everyone. I would recommend for anyone to try it and pursue it as a hobby, but try not to get delusions of grandeur. Keep your options open, always follow your passions in life, but make sure you have back-up plans in case professional modeling just doesn't work out for you.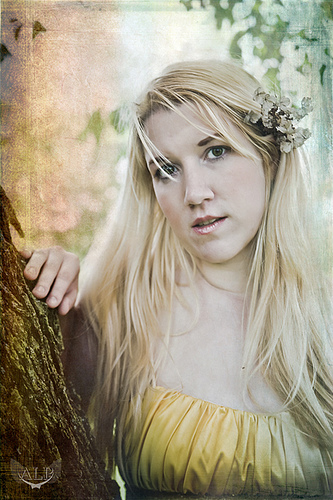 Photo: Autumn Lace Photography